Warning
: Undefined array key "margin_above" in
/var/www/wp-content/plugins/ultimate-social-media-icons/libs/controllers/sfsiocns_OnPosts.php
on line
619
Warning
: Undefined array key "margin_below" in
/var/www/wp-content/plugins/ultimate-social-media-icons/libs/controllers/sfsiocns_OnPosts.php
on line
620
This post may include affiliate links, view our disclosure policy for details.
The Pattern Design Series is geared towards crocheters who want to learn how to write, publish, and sell their own crochet patterns. In this series you will learn everything you need to be a successful crochet pattern designer.
If you have been following The Pattern Design Series, then you know I have a background in technical writing. It was while I was creating technical documents, that I first learned the term "stylesheet".



What Is A Stylesheet?
Despite the name, stylesheets are not very stylish. Instead they are how you are going to style your written pattern. The layout, font, pictures, logo, everything.
The goal of creating and using stylesheets is establish rules for yourself. These rules you set will create a consistent look and feel among all your published patterns.
Will You Abbreviate?
First decide, if you will use stitch abbreviations in your patterns. If you do, then create a table/page that will serve as your guide on HOW you will abbreviate.
Your customers want this kind of consistency, they want to know that when you abbreviate slipstitch, you are going to always use "sl st". It sounds like a small detail, but people will pick up on it, if you use "sl st" in one pattern, then use "slst" in another pattern.
Resource: The Craft Yarn Council is the authority on crochet stitch abbreviations
How Will You Write Your Pattern?
How do you plan to write your pattern? Will you use commas or periods between stitches? Or will you put each stitch on a different line? For example:
Row 10: DC in next 2 stitches, DC2TOG, Ch 1, turn.
OR
Row 10: DC in next 2 stitches. DC2TOG. Ch 1. Turn.
Choose Your Font But Keep It Simple
When it comes to picking a font for your logo or name, pick one that speaks to you. Your logo and how you write your name is going to be part of your brand so be creative.
When it comes to the font you choose for writing your patterns. Keep it simple. Very simple.
I use a script font for my logo, title, and headers. Everything else I use Times New Roman. Boring? Maybe, but it is clean. Font matters.
Case in point:
Why font choice matters… pic.twitter.com/yF4I2swXSR

— WHF Design Studio (@WHFdesigns) March 10, 2015
Resource: 5 Ink-Saving Fonts Every Eco-Friendly Designer Must Know
Use Specific Wording
I've focused a lot on how the stylesheet will set the look of your patterns, but it will also standardize how you write out instructions too.

If you have several patterns for making fingerless gloves, then you know a thumbhole will be required. You can use your stylesheet to create the specific wording for making a thumbhole (or cuff, or sewing pieces together). This gives you copy and paste power when writing new patterns. You don't have to think of a new way to same the same thing, you can use your stylesheet as a reference.
RELATED: Want to know more about writing and publishing crochet patterns? Visit the The Pattern Design Series
My Stylesheet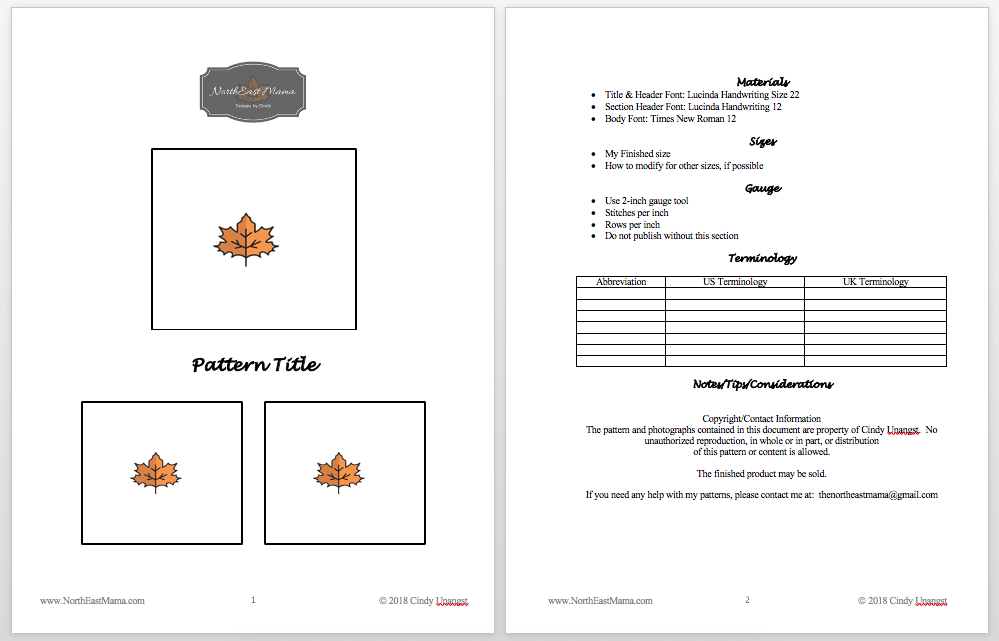 One of my projects right now is to convert all my current patterns to new stylesheet. It is cleaner than my previous version. I have standardized the title and materials page.



All my patterns will also include a new table with crochet stitch abbreviations in US and UK terms.
So where do you start for style sheets? Think about the patterns you thought were well written. What made them special? For me, I gained inspiration from several places. I thought about the patterns I thought were written really well and wrote down the specifics of why I liked them. I also wanted my patterns to have a book-feel.
The biggest thing to remember about creating a stylesheet? You can change it! You're not stuck with one for the rest of eternity, if you find in a year, you can make it better? Then make it better!