Warning
: Undefined array key "margin_above" in
/var/www/wp-content/plugins/ultimate-social-media-icons/libs/controllers/sfsiocns_OnPosts.php
on line
619
Warning
: Undefined array key "margin_below" in
/var/www/wp-content/plugins/ultimate-social-media-icons/libs/controllers/sfsiocns_OnPosts.php
on line
620
It is hard to believe, I started this granny square blanket more than seven months ago. Not that I worked on it the entire time. Like most of my projects I start one, then have to put it away for a while before picking it back up again.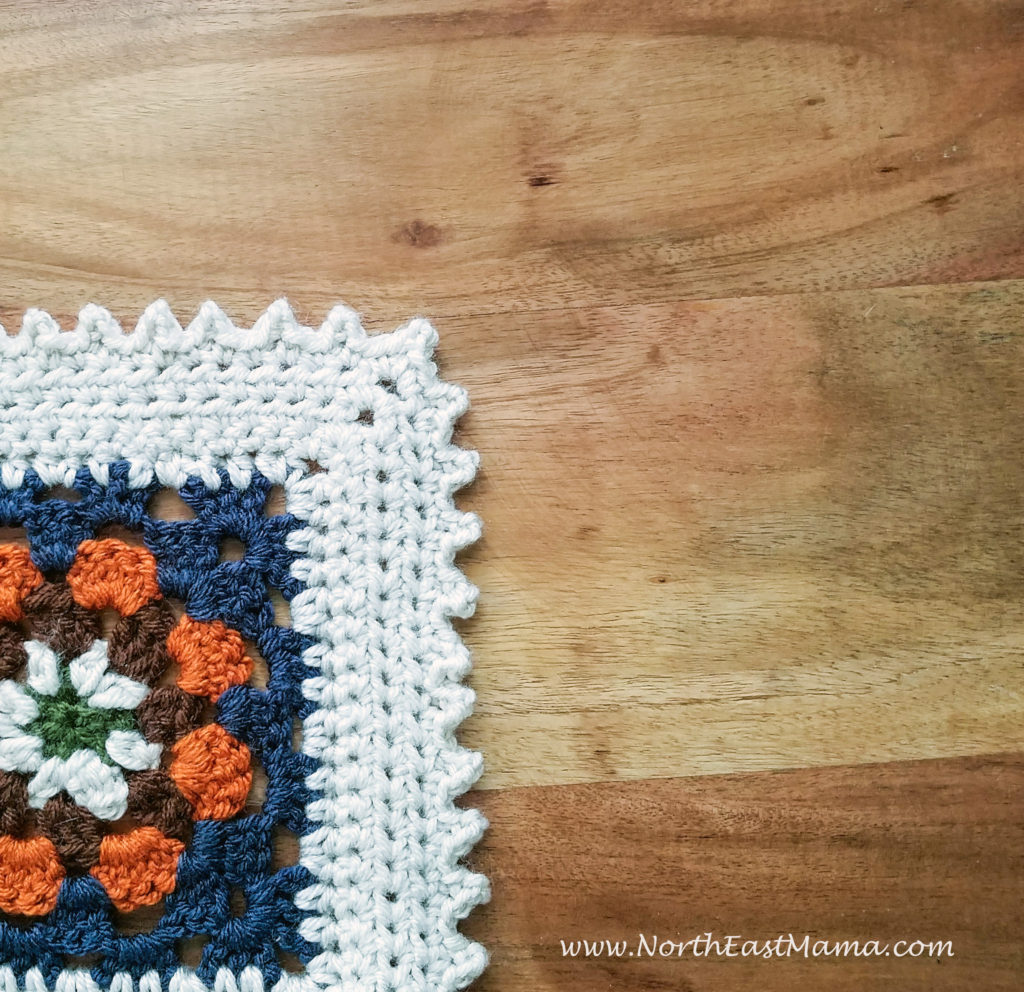 I've seen some monochromatic granny square blankets which are gorgeous. To me, however, when I think of granny square blanket, I envision lots of color!
For this blanket I chose an equal number of solid granny squares as multi-colored granny squares. I would love to say it was for design reasons, but really I just didn't want to sew in that many ends.

Pattern:
The granny pattern I chose was the Lily Pad Square from Pasta And Patchwork. She has some beautiful, free, patterns available at Pasta and Patchwork (no longer being updated) and also her new site, Emmy + Lein. Check her out!

Materials:
Hook: I/9 5.5mm
Yarn: I Love This Yarn
Linen – 4 skeins (3.5 was used)
Brown – 2 skeins
Dark Olive – 2 skeins
Burnt Pumpkin – 2 Skeins
Dark Denim – 2 Skeins



Granny Square Pattern: Lily Pad Square
Edging:
SC evenly around the edging with a (SC, CH3, SC) in each corner
3 Rows of HDC in each stitch with a (HDC, CH2, HDC) in each corner
Picot edging with a (SC, Picot, SC) in each corner
All total there are 80 granny squares in this blanket. I weaved in the ends as each square was finished. If I didn't, then this blanket would still be in pieces somewhere. The finished size is 54″ x 64″ (137cm x 162.5cm) so a little more than a standard throw blanket.