Warning
: Undefined array key "margin_above" in
/var/www/wp-content/plugins/ultimate-social-media-icons/libs/controllers/sfsiocns_OnPosts.php
on line
623
Warning
: Undefined array key "margin_below" in
/var/www/wp-content/plugins/ultimate-social-media-icons/libs/controllers/sfsiocns_OnPosts.php
on line
624
Recently I was at Michaels, doing some much needed retail therapy, when their Caron Cotton Cakes display caught my eye. 
I'll be honest, I'm not a 100% fan of some of the earlier Caron Cakes. They felt weird to me, but I have since come around especially their Cotton Cakes. I can't tell you how much I love the Cotton Cakes
This is NOT a sponsored review.  I purchased this yarn all on my own.
I picked them up, squeezed them, petted them, compared all the colors, put one of each in my basket, put them all back, wandered around the yarn aisles several times before coming back and putting three of the Garden Path cakes in my basket.
What is Caron Cotton Cakes?
Caron Cotten Cakes is the latest in a long of line of multi-color, self-striping yarns that have been filling up Instagram and Pinterest since 2016. The allure of these cakes is they are made up of 4-6 colors in complimentary colors. If you have ever had trouble figuring out what colors go best for a project and you find the color wheel confusing (like I do), then these cakes are your best friend.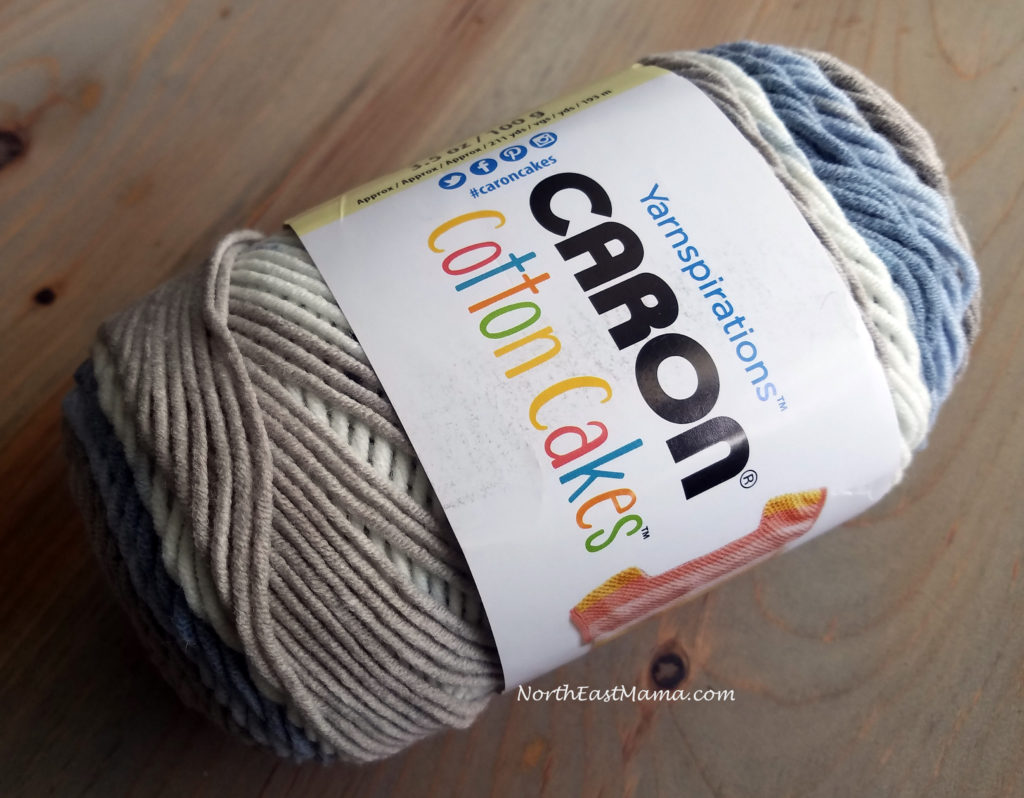 Caron Cotton Cakes come in a beautiful, variety of pastel colors, so perfect for any spring or summer project.
Despite the name, Caron Cotton Cakes are not 100% cotton. They are 60% cotton and 40% acrylic. I didn't realize this until after I got them home. Talk about disappointing! I still would have bought them, but I couldn't help feeling mildly annoyed when I realized they were a blend.
Each cake is 3.5 oz/100g and 211 yards/ 193 meters. It is machine washable and dryable. The recommended crochet hook size is 5mm whereas the knitting needle recommended size is 4.5mm.
Using Caron Cotton Cakes
When I bought the Caron Cotton Cakes, I already had the Reverie Shawl in mind. Sometimes, though, you can start out with a project in mind but once you start working with a yarn that project can change. Thankfully that did not happen with this yarn.
As I got halfway through the first skein, the colors started to unfold even more beautifully, than I could have imagined. For me the highlight of Garden Path is the greyish/brownish color. That dark color gives the shawl depth.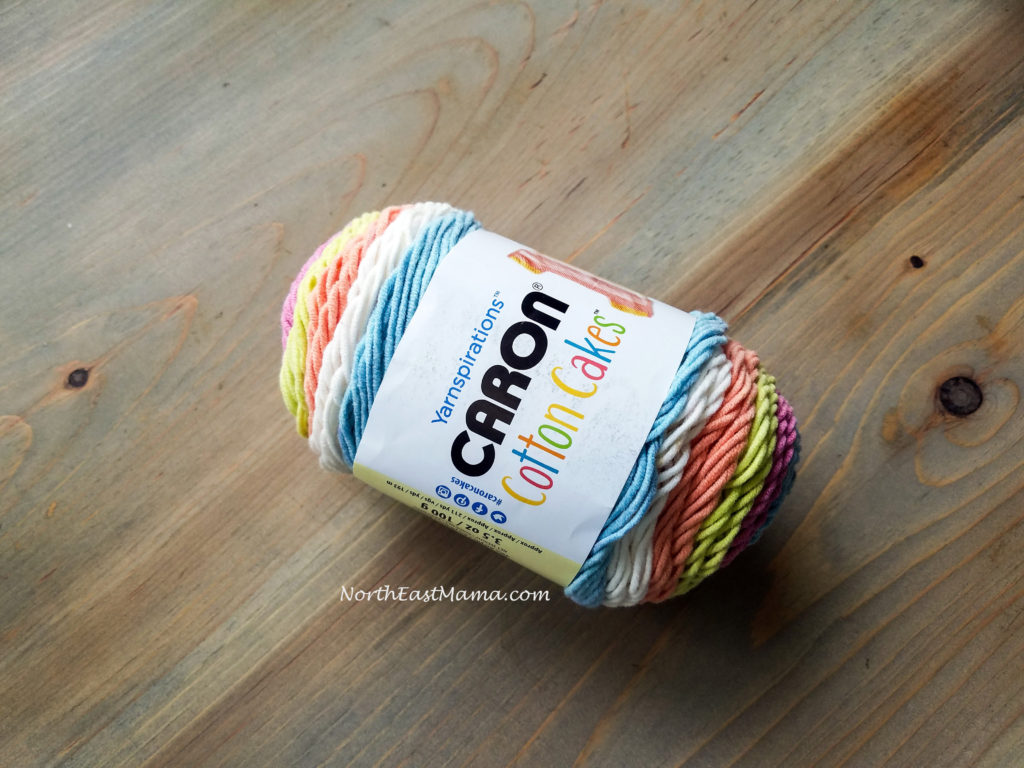 The yarn felt silky, yet sturdy. It glided though my fingers easily. It did slip off my crochet hook a few times, but the majority of the time stayed in place.
I think my favorite aspect of the yarn was it did not snag. I had to frog a couple of rows and it came apart easily. Also it did not snag on my very dry, cracked hands. I know that sounds weird but if you've ever worked with yarn with extremely dry, cracked hands then know what I'm talking about.
Even though the recommended crochet hook size is 5mm, I felt it actually needed a smaller. For The Reverie Shawl, I used a 4mm crochet hook.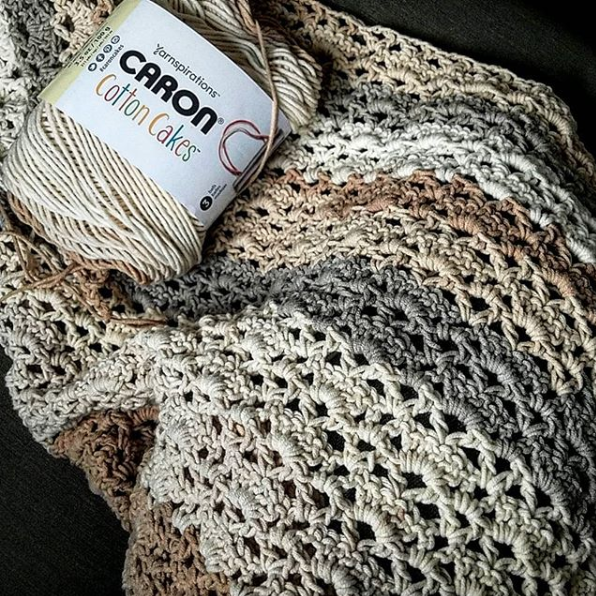 What Caron Cotton Cakes is NOt!
It is not 100% cotton, so it cannot be used for potholders, towels, dishcloth, or anything other kitchen needs. It is for fashion or home decor projects only.
I also hope they make more cakes beyond the pastel colors. I think the pastel colors are beautiful, I would just love to see more jewel tones in this yarn blend.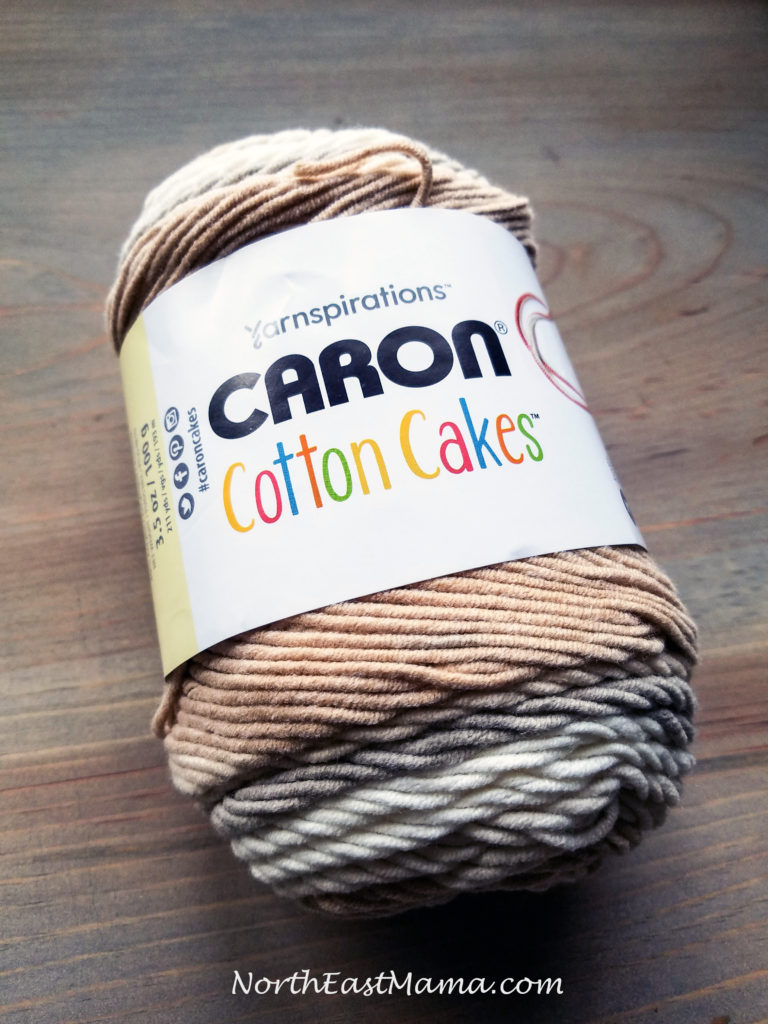 Recommended Projects
Crop tops
Blankets
Clothing
Mandelas
Home Decor
Fashion
Final Thoughts
Considering, 2 months ago, I didn't even know Caron Cotton Cakes even existed, I've made up for lost time by falling completely in love with them.
It sells out very quickly, so if you can get your hands on it, I highly recommend it. I found the yarn very easy to work with and easy to care for, in fact I enjoyed it so much I bought more!
When I made the first purchase I bought 3 cakes thinking it would be enough. Silly me! The Reverie Shawl and a hat took 4.5 cakes. When I ordered 3 more from Michaels to finish the shawl, I decided to buy some additional colors, not enough to qualify for free shipping, but enough to keep me busy for a while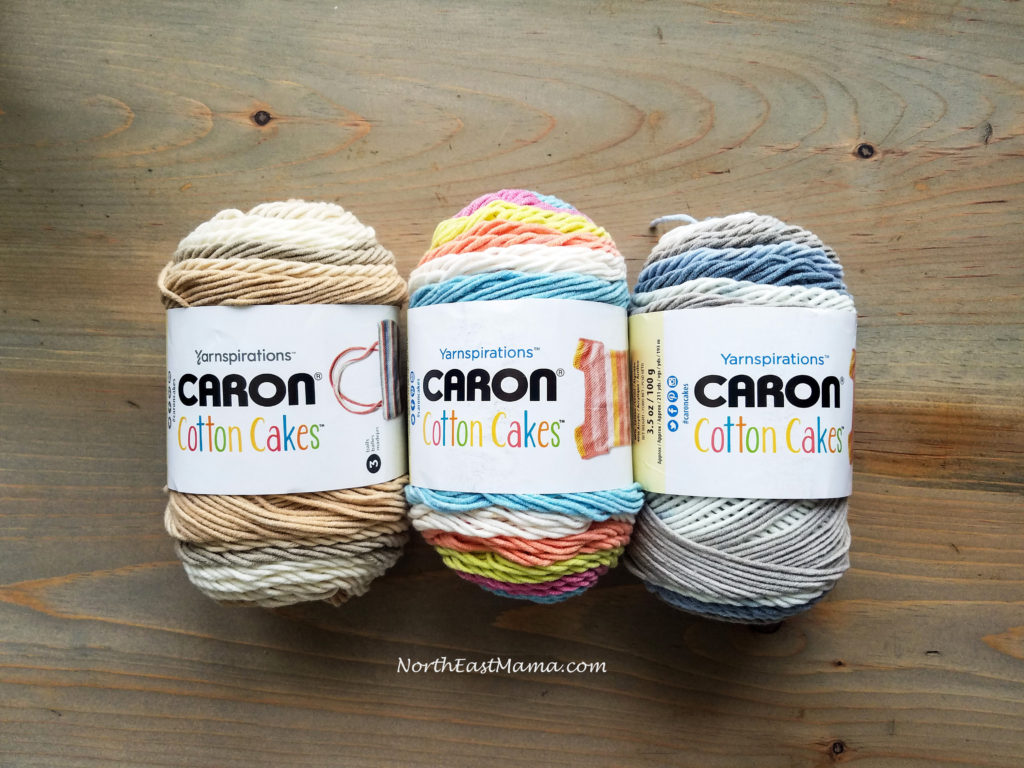 Have you tried this yarn before? Leave a comment letting others know how you liked (or didn't like) this yarn.