Warning
: Undefined array key "margin_above" in
/var/www/wp-content/plugins/ultimate-social-media-icons/libs/controllers/sfsiocns_OnPosts.php
on line
619
Warning
: Undefined array key "margin_below" in
/var/www/wp-content/plugins/ultimate-social-media-icons/libs/controllers/sfsiocns_OnPosts.php
on line
620
Out of all the crochet hearts I have made, this version is by far the absolute easiest. Each crochet heart takes less than 5 minutes and less about 1 yard of yarn each! That's it!
THIS POST MAY CONTAIN AFFILIATE LINKS,
VIEW MY DISCLOSURE POLICY HERE FOR DETAILS.
This Easy Crochet Heart, is the perfect stash buster. I have used this pattern to make loads of hearts, all different sizes. Sometimes I will use a light yarn if I need a delicate applique for a baby hat. I've also used bulky yarns to make larger ones.
My kids love to play with these hearts, so more often than not, I will find them mixed with their toys.
I never worry about having too many crochet hearts because I know the will be used eventually. Some will become adornments for hats, blankets, or scarfs. Some will be put into the kid's art boxes to for future creations, while others might just be photos props!
Related: Easy Crochet Shamrock
I'm saving a few so the kids can make their Dad a Valentine's Day card.

If you look a the picture below, you can see I made several different sizes using bulky yarn, wool yarn, worsted weight, and light yarn. Each was made using this same tutorial but with 4 different crochet hook sizes.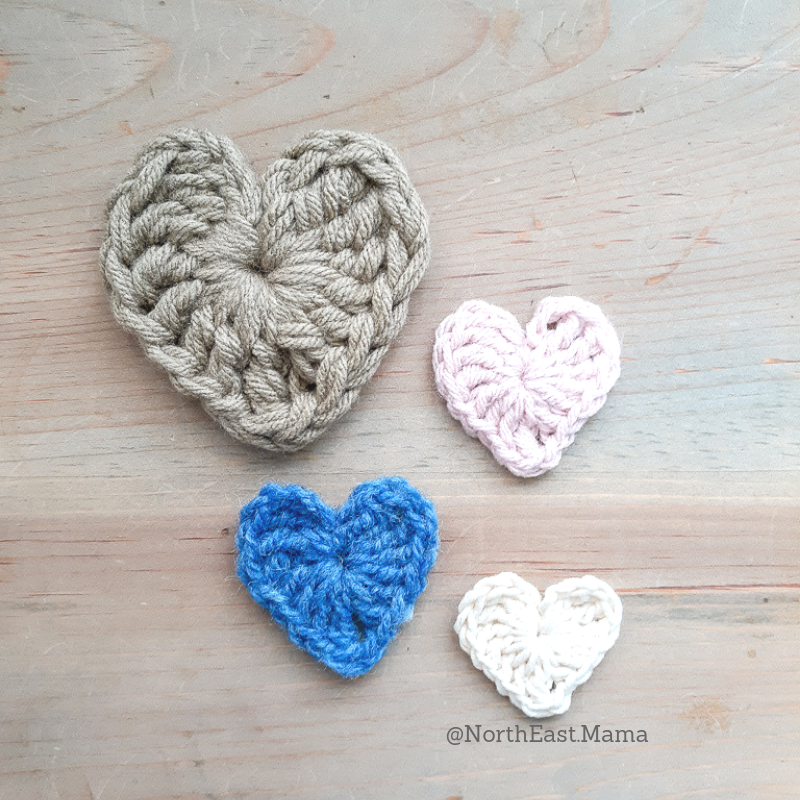 You don't have to use only yarn either. I wanted to make a couple out of jute but I only had a small 8 inch piece. You could also use ribbon, rope, or any other yarn-like material you have.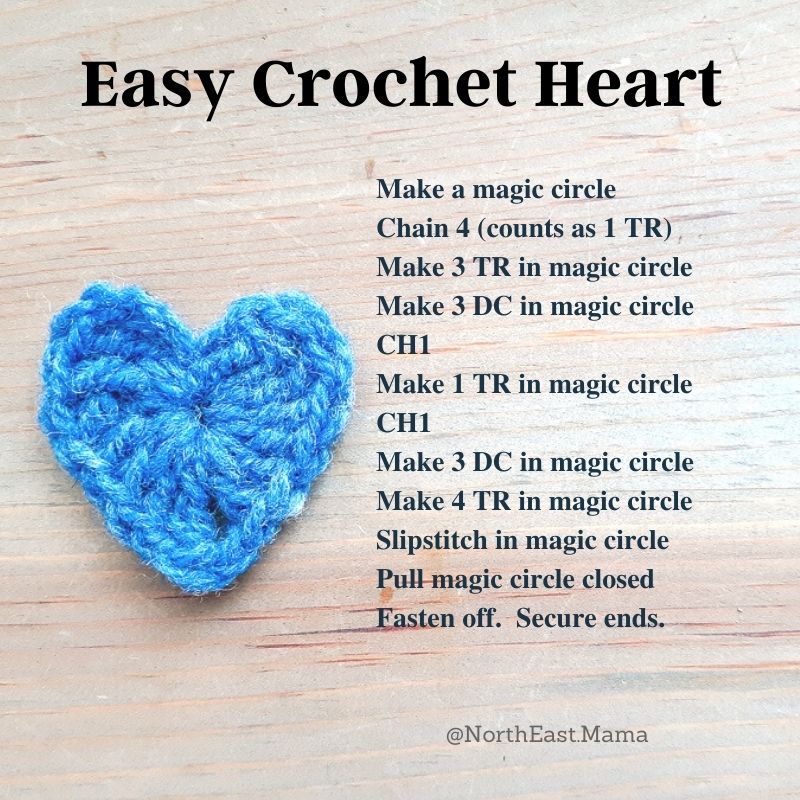 SHARE, LIKE, SUBSCRIBE!
If you use this easy pattern, please feel free to tag me on Instagram or Facebook. I would love to see it! Also if you find a mistake here or have a question about it, don't hesitate to contact me.
If you liked this pattern, be sure to share it with your friends and followers, I truly appreciate it. For more free patterns and stitch tutorials – follow my Instagram or Facebook and allow notifications to get a pop-up whenever new post is published.